Mid Century Modern Home
Albuquerque, New Mexico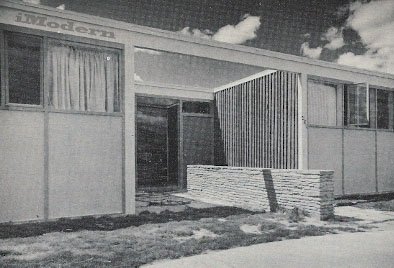 LOCATION:
Albuquerque, New Mexico
ARCHITECTS:
Max Flatow and Jason Moore
OWNER:
Jason Moore
COST FACTS:
$19,000 in 1951. 2500 square feet at $7.60 per square foot.
MATERIALS:
Wood frame, using simplified framing system; concrete slab floor on fill. Steel casement windows, 4-foot module.
PLAN FACTS:
To get eight rooms on a small city lot is no easy task for any architect. Here it has been done by the use of a compact plan which places kitchen, heater room and two bathrooms in the center of the house. Radiating from this "core" are:
(1) living-dining space;
(2) master bedroom, study, bath;
(3) children's rooms and bath, with adjacent play court; and
(4) a workroom with dark room and storage.
This last caters to the family's interests in photography and home crafts. A garden court between the living area and work-shop lends openness to this otherwise tight plan. The children's wing has one double bedroom which, by means of a movable division, serves as playroom by day.
ECONOMIES:
Simplified framing system; drywall interiors; inexpensive rough-sawed vertical siding; central plumbing core.