Mies van der Rohe MR chair
Germany, 1926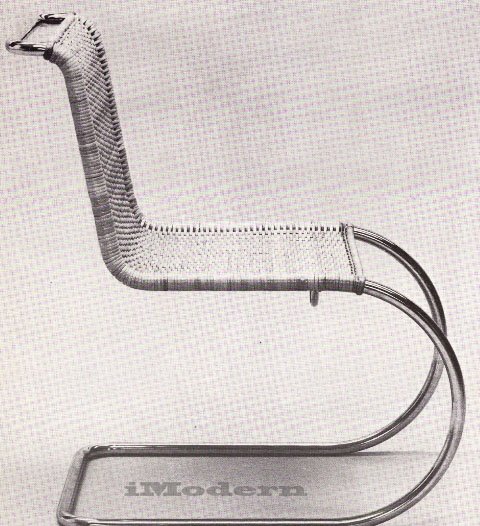 This chair was designed at the time of the earliest use of the cantilever principle for metal-frame chairs.
In this case the cantilever is directly expressed by the use of a half-circle at the front, acting as a curved spring. Even though all the lines in this chair are strictly geometric - a series of straight lines and half and quarter circles - the impression it gives is of a very graceful, springy, flowing form.
The idea of the continuous line of side support becoming the base element along the floor, had a very far-reaching influence. In fact we have seen so many similar uses of tubular steel that it is difficult to appreciate the sophistication of this beautiful chair.
An original production model of the MR chair. (The metal has been painted at a later date). Originally, the chair was offered with either leather or cane seat/back. From the collection of the Victoria and Albert Museum, London.
A version of the chair with arms was also made originally, which gave the chair the appearance of a closer connection to the Thonet rocking-chair shape. The arms curved from the back to join the main curve below its outermost point, and they accentuated the airy suppleness of the structure. The armed version seems much less stark, though the arms are unmistakably afterthoughts, and are not entirely satisfactorily connected to the main structure.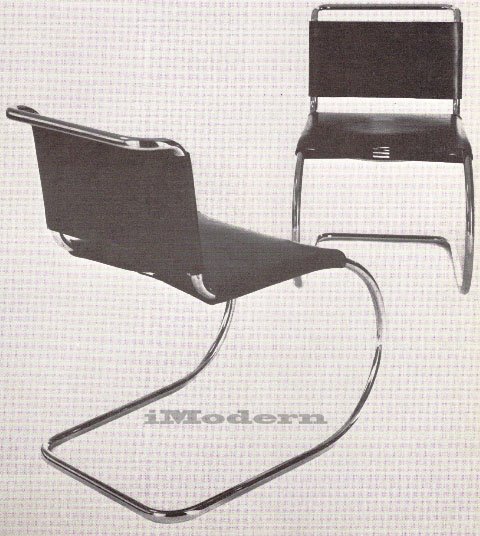 The current production model of the MR chair with leather seat and back. The lacing of the leather at the back and below the seat allows adjustment of the tension.
While the he MR chair was originally produced with a continuous seat and back of woven cane, it was made with separate seat and back of leather, held in place with metal strips and bolts. This fixing was later modified to a complete wrap-around leather cover, laced together at the back.