Mid Century Modern Home
Tryon, North Carolina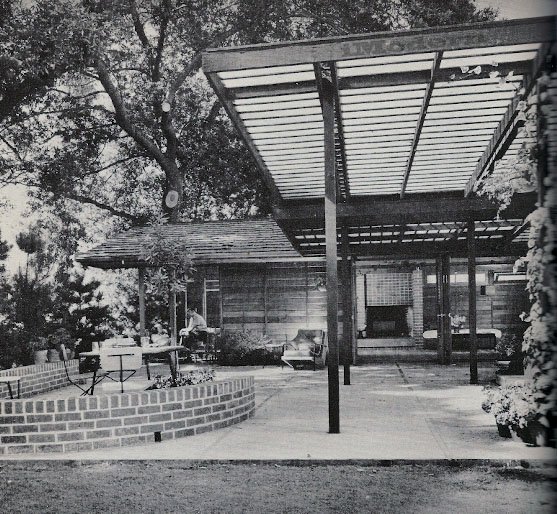 LOCATION:
Tryon, North Carolina
ARCHITECT:
Henry Hebbeln
OWNER:
Charles Y. Dusenbury
COST FACTS:
$9,000 in 1949. 760 square feet at $12 per square foot. Cost includes built-in furniture.
MATERIALS:
Frame: vertical rough-sawn native pine walls; corrugated asbestos roof.
PLAN FACTS:
The ultimate in simplicity plus the use of native materials was essential for this house in a mountainous region of North Carolina. These two factors were the dominative ones in designing the simple structure:
(1) because of the remoteness of the location, and
(2) because of the desirability of using native materials and craftsmen, both of which were available nearby.
The construction is simply 4 x 4 posts which carry 4 x 8 beams which support the roof. Electric heating panels were attached to the underside of the roof, making this a year-round vacation house. Planned for an artist couple (sculptor and textile designer) with two children, it was designed to grow into a permanent home.
The living unit built first, illustrated here, is in essence one large room divisible at night for two children in one section and parents in the other. Within this space is an enclosed bathroom and a kitchen with a 5-foot high dividing wall. Sliding glass doors extend the living space outdoors to a floating deck and a view of the Blue Ridge Mountains to the west.
Two further construction stages are contemplated to expand this house into spacious year-round living:
(a) a two-level studio, accessible from the drive and car shelter below, with sculpture work court and south balcony for weaving (to be used also for secluded sleeping for parents or guests);
(b) a "bunk house" which will contain master bedroom-sitting room, luxury 'bath, and minimal children's rooms with divided bath.
ECONOMIES:
Use of native materials and craftsmen to carry out simple construction.