Lounge chair 670 by Charles Eames
U.S.A., 1956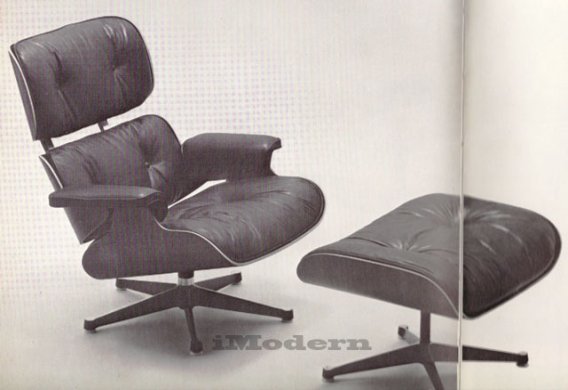 The only chair that Eames designed to achieve comfort both actual and psychological, this chair consists of a metal base which supports curved plywood parts made from rosewood, which in turn cradle the upholstered elements.
These are made from soft leather covering down which is placed in turn over foam
rubber. The design was made with the psychology of comfort very much in view. Thus the leather is permanently wrinkled by the way in which the buttons are placed, to suggest that it has recently been sat in; and the chair has generous proportions - its elements placed and angled in a way which indicates the comfort to come.
There is a flexibility in the ingenious rubber connections between the headrest, backrest and seat via the armrest and the seat's base. The swivel and tilt mounted base of the chair has five prongs which enable it to sit in any position without looking off-centre. The chair is so comfortable that people who own it say that they find it virtually impossible to read complex texts while sitting in it.
It has had an incredible effect on the furniture industry, almost every manufacturer running to his designer for an equivalent chair in order to compete, almost all variations being reminiscent of the original.
It seems that so far no one has succeeded in designing an equivalent chair which gets away from the appearance of the Eames original. Nor has anyone succeeded in equalling its appearance of comfort. Aesthetically, this chair expresses comfort in the strongest possible way through visual means.
Perhaps the least aesthetically satisfying element of this chair is its base which like most bases used by Eames tends to look like a separate entity, bearing very little relation to the chair as a whole.
It could obviously be used to support a table or any other piece of furniture or be interchangeable with a different chair. This was realized by Eliot Noyes when he designed his Xerox showroom and used Eames' chairs remounted on tubular bases which were simply inserted into the floor. This very much improved their appearance.