Tripolina by Joseph Beverly Fenby
England, 1877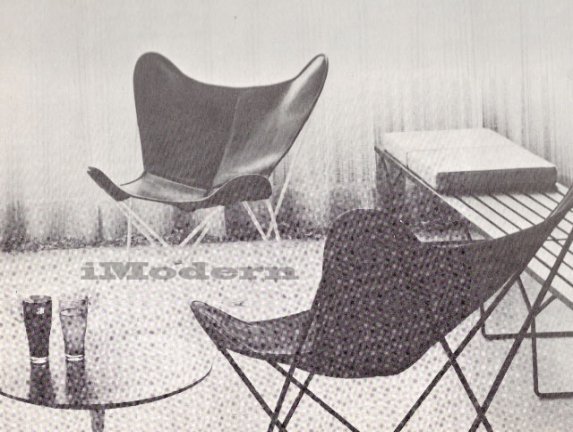 This design was patented by Joseph Fenby, an inventor, in 1877. The chair was
later manufactured in Italy as the Tripolina and in the United States as the Gold
Medal NO.4.
This is a prototype from which a number of similar designs have sprung, notably the Hardoy chair designed in 1940 by the Argentinian architects Antonio Bonet, Juan Kurchan and Ferrari Hardoy.
The Tripolina's popularity with circus clowns and army officers on campaigns
stems from its unsurpassed collapsibility - setting it up involves simply pulling
it open and draping it with its seat/back sling.
It is interesting that Fenby regarded his chair as an afterthought, and a stool with the same structure as having been his important invention, even though the traditional artist's tripod stool does the same job with only three pieces of wood and one connector.
After a laborious description of the stool, Fenby's original patent refers to the
chair as follows: 'For a camp chair four of the bars are made of an additional
length so as to serve as a support for the back of the sitter.'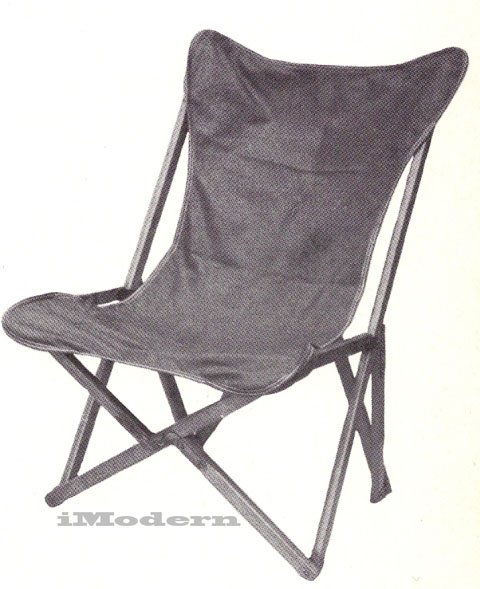 The earliest evidence of the chair's production in any great quantity is in 1895 when Gold Medal of Wisconsin began to make it. Apparently Fenby sold the rights to French and Italian manufacturers at about the same time.
Although it is not as refined as later developments of the same structure, Fenby's design is still sufficiently slim and light to be a most economical lounge chair interms of shape and materials. Moreover, its horizontal side members make it certainly more comfortable than the Hardoy, and easier to get out of.