Mid Century Modern Home
Mill Valley, California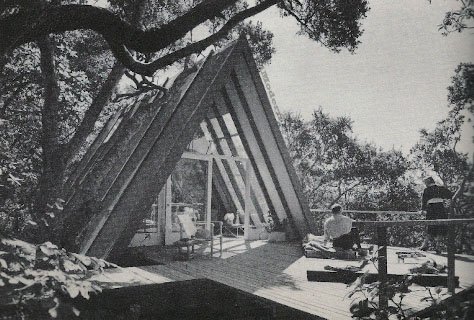 LOCATION:
Mill Valley, California
ARCHITECTS:
Campbell & Wong
OWNER:
John Garden Campbell

COST FACTS:
$5,000 (without architect's fee), in 1952. 540 square feet.
MATERIALS:
Basic structure is a series of eleven equilateral triangles of Oregon fir, furnished pre-cut with holes already drilled to take bolts. Exterior panels are of waterproof marine plywood secured by heavy battens. Plywood house flooring and plank porch flooring, applied to floor joists.
PLAN FACTS:
For his own week-end house (to be used for relaxation, entertaining with ease of maintenance) John CampbelI decided to erect one of the "Leisure Houses" which he and his partner Worley K. Wong had designed.
Available for purchase as a "build-it-your-self" structure, this prefabricated assembly unit comes in two basic "packages": one with living room, kitchen, bath and sun deck; the other with the same space but a bedroom added.
Mr. Campbell chose the unit with the bedroom for his week-end house. He of course added plumbing, electricity, glass to fit within the basic shell framework; but even so the completed ready-to-be-lived-in house cost only $5,000 in all.
ECONOMIES:
Prefabricated unit easily erected by two people, after foundation is laid.