Sofa by George Nelson
U.S.A., 1963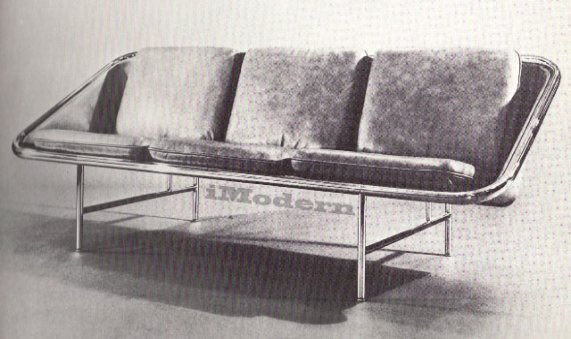 This sofa is included in a book of chairs, because it is considered to be the only
sofa to rank with the chairs selected for this book, as a classic design. As it happens, it is, to date, the only sofa chosen by the Museum of Modern Art in New York for its contemporary design collections.
The sofa has chromium-plated steel tube legs, and cushions lying on rubber membranes within a round- cornered rectangular framing loop also in tubular steel. There are many aspects of Nelson's design that are especially ingenious. For example, the use of epoxy resin for the final assembly of the frame components. This enables welded elements like the connector between the front and back legs, or the T shaped sections connecting the main loop with its ends, to be mass-produced. The epoxy connection is used to put together elements making up sofas of various lengths, as required.
The method of supporting the cushions, consisting of a series of neoprene rubber platforms stretched between the front and back cross bars, is very simple and highly effective. The cushions themselves are leather-covered dacron and foam with a single welt around the edges. The leather is pre-formed into a curve at the corners, which gives a soft, rounded shape.
The effect of all this careful detailing, combined with a strong original design
idea, is a sofa that for once does not look like an extended version of a chair,
nor a vast and unwieldy piece of upholstery.
It is a very taut design, embodying the best of new design principles, but still looking invitingly comfortable, mainly because of the soft shape of the cushions.