Paul McCobb
Midcentury Modern Furniture Design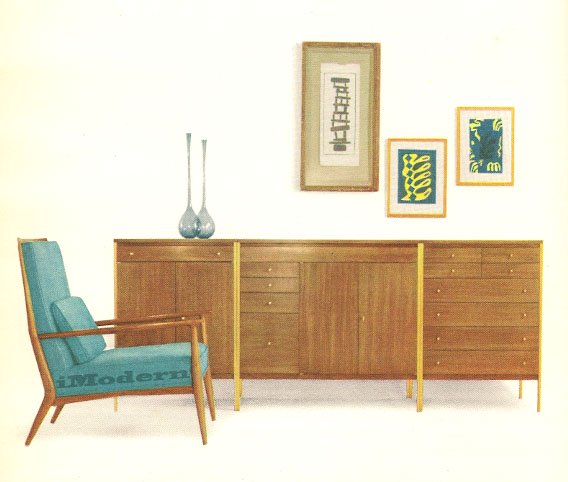 Paul McCobb's design has served the needs of the people and improved the usefulness and esthetic forms of their objects. It has its roots in the growth of a new awareness of the inter-relationships of human activities. In all epochs in which creative work has been produced, it has given us an intellectual and artistic perspective of a culture.
History is not simply a repository of unchanging facts but a process, a pattern of living and changing attitudes and interpretations. With this thought in mind, we are able to look at that which is representative of the past, and accept those designs which have proven to be classics of their times, and understand what aspects of them are meaningful today.
A period should be understood comprehensively: its architecture, painting and sculpture, its products and tools, as well as the social structure in which these develop.
A designer must be a keen observer of his own period, interested and aware of all aspects of his times, the economic and social structures, particularly the arts and sciences. Contemporary design, like modern science, recognizes the fact that observation, and what is observed, form one complex situation - to observe is to act upon and to alter. A designer is constantly striving to express his point of view in the form of designs best suited to contemporary needs.
Aware of the historical context of his work, today's designer must design directly for the people, recognizing their needs, wants and aspirations. The human being is the final element that makes a design work or not work - every design must be carefully engineered to work properly and to have that intangible extra interest that develops a desire for possession.
It becomes an intimate part of everyday life, making it more pleasant, meaningful and rewarding. This process in turn establishes the receptive climate in which a designer is able to produce his most creative work.
All contemporary design must be based on the sincere application of the fundamental qualities of good design: creative concepts, honest use of materials, efficient and intelligent use of advanced production techniques, exacting proportions and details - achieving an overall integrity of product.
A designer capable of maintaining this high level of approach, inevitably helps to raise the standard of living and culture of a people, and possibly leaves a heritage which may parallel or even excel the great achievements of the past.