T chair
William Katavolos, Ross litell and Douglas Kelly
U.S.A. 1953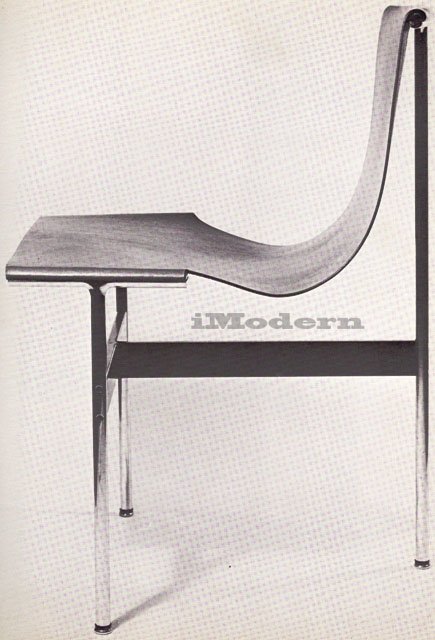 One of the most significant team efforts in furniture design has been the range of pieces of which this is the key example.
Each piece clearly expresses the philosophy of the design group, which was concerned with elegant proportioning, clarity of structure and an approach to the unity of form that was described as 'similarity in the differences and differences in the similarities'.
Applied to this chair, this means that all the elements, whatever their function,
are topologically the same, a T, and that all the Ts are quite different from each
other both in their orientation and their materials.
Thus, we have three chromed steel rod Ts in two planes, a black bar T in a third, horizontal, plane, and a leather T plane lying in a curve. Every dimension falls in a constantly recurring proportion (the 'golden mean'), the final touch of elegance being the scroll shaped connections between the leather and the frame, which are made by screwing the halved rods of the frame together from the top, and clamping the leather between them, before the legs are connected to the horizontal brace. Then, when the leather wraps over the top of the turned bars, it conceals all the screws.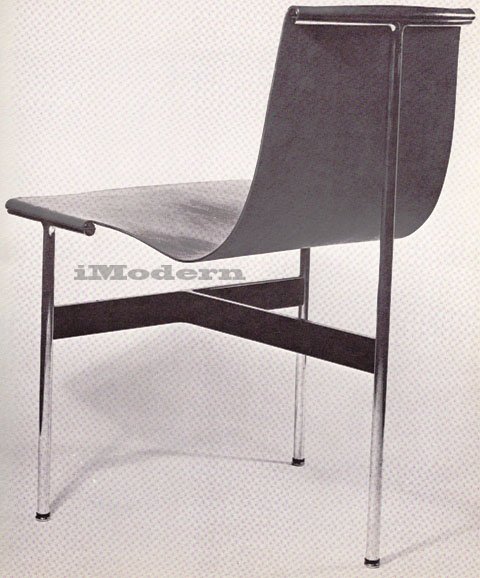 This chair shows interestingly the results of imposing preconceived decisions on the logic of forms in combination, in such a functional structure as a chair.
A subtle concession to comfort, which turns out to be also a subtle aesthetic refinement is the slight curve in the back support bar. Besides adding greatly to the comfort of the chair, it introduces a shallow curve in opposite plane to the seat/back curve, again emphasizing the different alignments in which similar forms are structurally combined.