Sling chair by Clement Meadmore
U.S.A., 1963
The design of this chair grew out of an interest in the possibility of using the sling principle in an anatomically correct fashion, and in a way which would intrinsically include armrests.
The steel structure consists of three parts: the back brace and uprights welded into a single unit, and the two front elements, each of which is attached with two screws, thus locking the leather sling in place.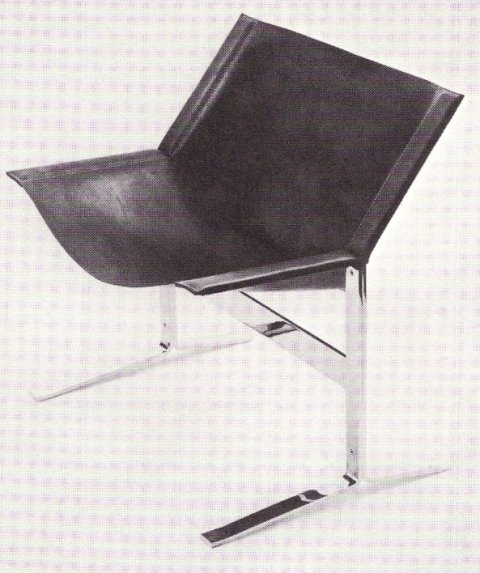 The extended flat steel strips, seamed into the leather sling at each side, repeat the principle of the base, and it is this construction method that distinguishes this chair from others using a similar base, but supporting a conventionally upholstered seat and back.
Because the leather is in a loose sling form, seamed between the seat and back contact areas, there is no stretching in use and no restriction of body movement even though the sling is virtually form fitting.
It is as comfortable as many more complex padded and upholstered chairs. Both functionally and aesthetically the metal and leather elements are sufficiently closely integrated to form a unified whole.