Up 1 chair by Gaetano Pesce
Italy, 1969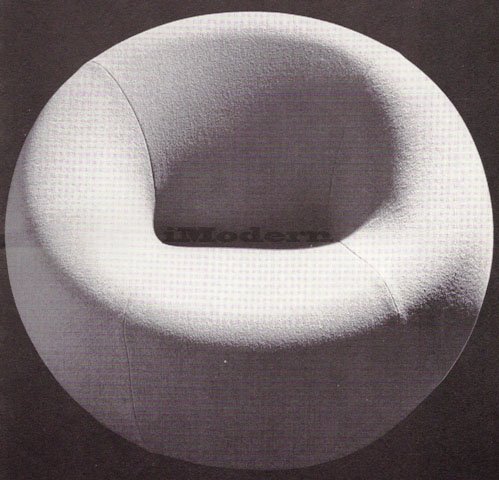 Gaetano Pesce is an architect, graphic artist and furniture designer. His Up 1 chair solved several problems in a unique and amusing way.
The chair consists of polyurethane foam of a precisely controlled density, with a stretch nylon and wool jersey cover. The tailored cover is held into shape simply by the use of two buttons which are tied to a plywood base and which pull the back of the seat surface down into the foam. For shipping, the chair is placed in a vacuum chamber between sheets of vinyl.
The air is withdrawn, the chair is compressed to a tenth of its original volume, the vinyl is then heat sealed, and packed in a flat box. When it is unsealed the foam expands back to its original size and shape by itself.
This is one of the few organically shaped chairs which doesn't have the sort of modernistic shape reminiscent of Arp's sculpture of the Twenties. In this case the shape is a direct result of its function and construction therefore more satisfying than most of the fancy modellings we now see in plastics and foam.
It is one of the few important chairs which can be used casually in a room, without the feeling that it should be lined up with the adjacent walls and furniture.