Mid Century Modern Home
Sausalito, California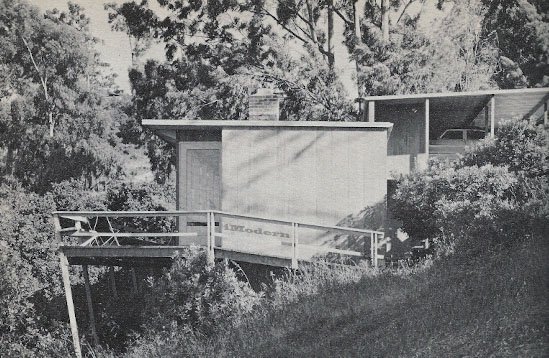 LOCATION:
Sausalito, California
ARCHITECTS:
Bolton White-Jack Hermann
OWNERS:
Mr. and Mrs. Sidney Ancker
COST FACTS:
$17,000 in 1950. House 1250 square feet (carport 400; stair, deck and storage 500; figured at one-half), at $10 per square foot.
MATERIALS:
Wood frame of fir with redwood siding; stock lumber dimensions were used.
PLAN FACTS:
Mr. and Mrs. Ancker, whose joint interests are literature, music, the arts, gardening and informal entertaining, wanted "a pleasant environment" but for a fixed budget.
To accomplish this for them, their architects depended on a choice of inexpensive but reliable materials, and stock sizes for labor-saving cost. The large living-dining room and the spacious deck running the whole length of it make an ideal setting for their many interests and for informal entertaining.
Because both Mr. and Mrs. Ancker are university teachers and have little time for kitchen activities, this space was made deliberately small but arranged for efficiency in use. A storage cabinet - counter height - opening to the dining space, performs as a bar, buffet and serving counter.
Based on the premise that in these days 01 servantless living it is desirable to make work pleasant and easy, dining takes place at one location for all meals. The less open part of the house has two bedrooms, a bath-dressing room, and a sunroom.
ECONOMIES:
Simple structural system.