Mies van der Rohe - Tugendhat chair
Germany, 1929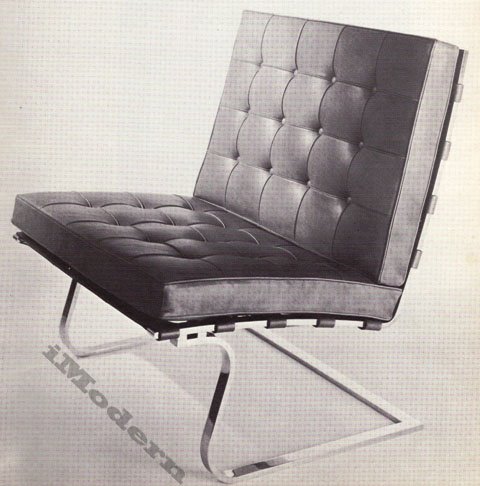 This chair was designed, like the Brno for the Tugendhat House.
It uses a seat/back construction closely similar to the Barcelona, the flat and rectangular cushions lie on leather straps looped over a solid section steel frame. The support element is a cantilever, and the complete frame is a clear expression of its function at every point. In contrast, the Barcelona frame is structurally ambiguous; the steel is used to create a prestigious and elegant design, whose roots are in aesthetic, rather than functional considerations.
As in both the Barcelona and the Brno, a flat steel strip is used for the frame of the Tugendhat. The flat metal has an appearance of malleability in its bent state, that is absent from the more stark and definitive statement of the curves in the MR chair, for instance, where tubing is used.
The Tugendhat has a similar sled-like look of sturdy streamlining as Poul Kjaerholms Chair 20, but the flat floor bar effectively finalizes the balance of the design. Also the Tugendhat's S shaped double-curved supports emphasize the difference in proportion between the light cantilever element and the upholstery.
This is in contrast with Kjaerholm's design, where a fine seat element appears poised on a broad, strong frame.