Bentwood armchair by Michael Thonet
Austria, 1870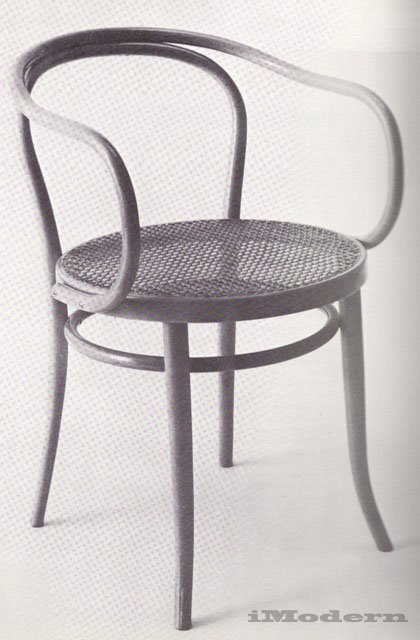 In 1840 Michael Thonet invented a process for bending wood which revolutionized the mass production of furniture. He soon established a range of bentwood chairs and other furniture running into hundreds of variations, of which the example shown here is perhaps the most elegant.
His patented process consisted of clamping a thin flexible strip of steel along one side of a piece of steamed wood. This side, after bending, became the outside of the
curve. Without steel, compression of the inner edge and tension on the outer would result in the outside cracking on the curve.
This simple process enabled Thonet to use extremely tight structural curves, just as strong or even stronger than the wood in its normal state before treatment. Another result was the elimination of virtually all complex jointing in the construction, as elements could be lapped over one another and joined with screws.
The armless side chair, introduced in 1876, was chosen by Adolf Loos for use in his buildings. Le Corbusier, however, selected the armchair, and the two architects were said to have had an argument in which each accused the other of having chosen the wrong one. The side chair has certainly been the more extensively mass-produced, in fact by 1900 about 40,000,000 had been manufactured.
The beautiful curves of the Thonet chairs, dictated by the intrinsic qualities of the material, were echoed by the Art Nouveau movement in which the same plant-like curves were used; but Thonet preceded the Art Nouveau style by some forty years.
Bentwood had been used since the 18th century for the backs of rural, craft-built chairs - typically the Windsor type - but only a rather strained and gradual curve was possible before Thonet's process. The patents ran out a few years ago on the original patterns, and now there are several manufacturers copying the designs and developing others which employ the same principles.
There are certain tubular metal chairs, for instance the Armchair 12 by Poul Kjaerholm, that owe something to the general configuration of a Thonet chair, partly because the similar diameter and visual weight of the two materials dictate similarly appropriate curves.
The Thonet chair uses wood expressively in its most natural-looking form, invoking the
way it originally appears in trees - as a springy, pliant material supporting its load without resort to bulk and without strengthening joints.
These chairs have been so widely distributed and have become so much part of our lives that it is difficult to judge them objectively. However, one can safely say that they are among the most beautiful man-made objects in our environment, and that familiarity never seems to detract from their appeal.