Chaise longue by Le Corbusier
France, 1928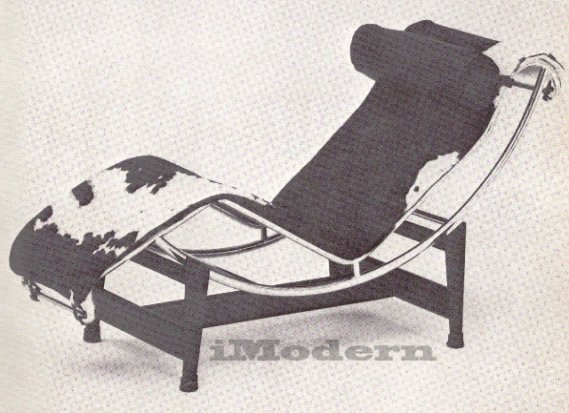 Designed by Le Corbusier in association with his partner, Charlotte Periand, and used in the furnishing of his Villa d'Avray, this is the first chaise to be made adjustable by simply moving the whole seat element within its quite separate support frame.
The seat is padded pony skin, supported by steel tension springs on a shallow curve of chromium-plated tubular steel. The seat is shaped in three planes, following the line of a flexed body and legs, lapping over the frame at either end, and it lies on the smooth curve of the underside, which is in turn supported by two thick rubber-covered lateral bars on a rigid steel base.
The rubber covering allows the seat to be placed at any angle on the two bars, from flat to almost upright, tilted either way, without slipping when you sit on it. This chaise, with its three contrasting surfaces - pony-skin, chromium-plating and matt-textured steel, and its leather head pad and straps, seems an elaborate construction, even for a total relaxation chair. But, when you have adjusted the angle to get vour feet at a satisfactory level above your head, and settled the position of the head cushion exactly, you find that it is truly one of the classics for complete rather egocentric comfort.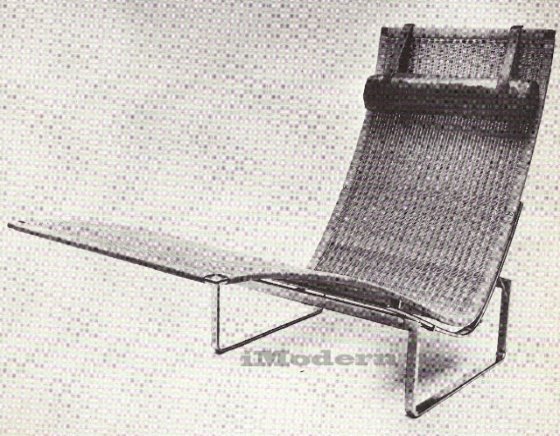 One important chaise design which may have been influenced by Le Corbusier's was the Barwa chair. Though no longer in production it was constructed from aluminium tube, with a canvas cover stretched over it, and with a V shaped base that enabled it to be tilted into either one of two positions. Also an adjustable chaise which works in a way similar to Le Corbusier's was designed by Poul Kjaerholm in 1965.
This uses a much finer base, with two strips of high tensile steel. On each of these there are two clips which hold the bars in place on the underside of the seat frame where they rest along the strips.
The seat element in this case is fine woven cane on a steel frame. The cylindrical head cushion with straps is again used. Without the slightly superfluous head cushion, Kjaerholm's chaise had a beautifully fine profile. It is comfortable too, though it has a much simpler flat contour, but it is not nearly so stable.
Le Corbusier's chaise embodies a strange contrast between the luxurious surface of the ponyskin with its soft leather pad, and the stark and rather complex silhouette of the supporting frame and base.