Heywood Wakefield Furniture
Before Refinishing
The photos below show several pieces of Heywood Wakefield, mid century modern furniture that we have purchased over the years.
We are finally getting around to having them refinished.

The dining chairs below have been in storage and need some work. They need to be tightened up and cleaned, some more than others. The edges and backs need sanding and maybe stripping.
This chair below is in nice condition but could probably use a cleaning. Looks like the upholstery is original or close to it but a bit out dated for what we want to do.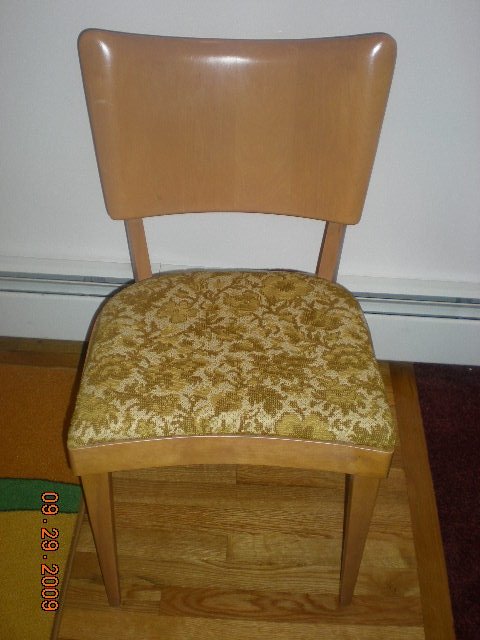 The dining room table has a spot from nail polish remover (you can thank my daughters for this one). The spot is between the two leaves so maybe the two leaves need to be refinished. I hope the match the other leaves when done.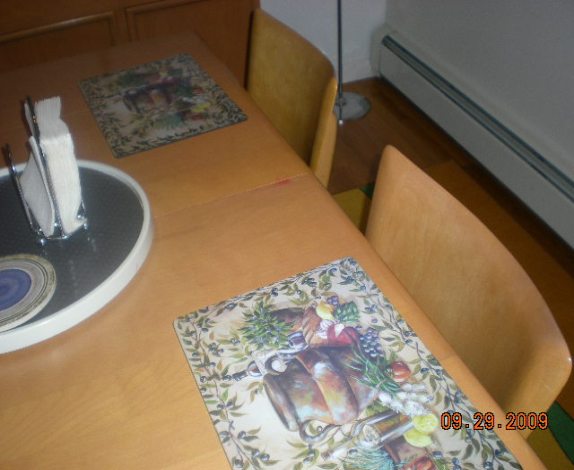 The table legs are those funky crab leg shape and for the most part are in great condition but several have been chewed on by a small dog or cat. What a shame. Hopefully they can be refinished without having to do the entire leg.
These next two photos are two more of our dining room chairs, one with the flash from the camera and the other is without the flash. I did this so you can see the difference in coloring. The one below is without the flash.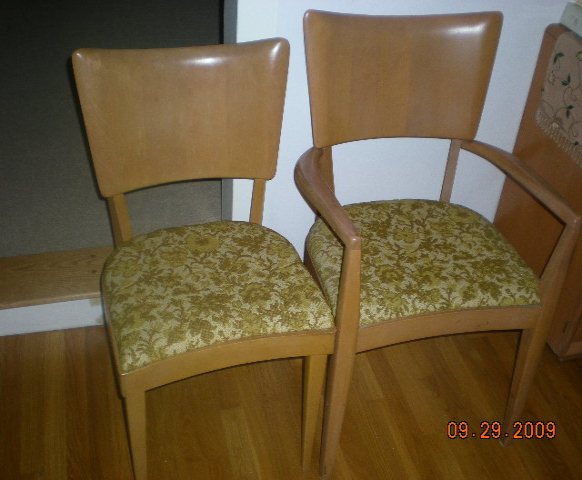 This one is with the flash.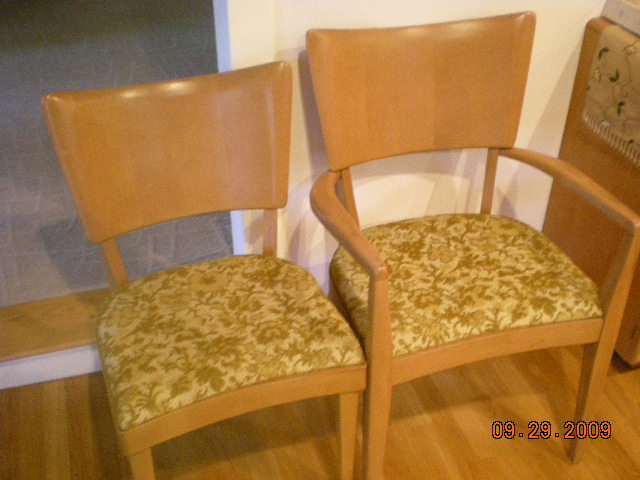 Below shows the top to our rectangle coffee table which has the same funky crab feet on it. The skirt and legs are fine but the top is messed up.
I didn't take a picture of the entire plant stand but I should have. It is extremely funky. Since I only need the base and bottom of the legs refinished, that's what I took a picture of.
Here's another piece with those funky crab feet but it was abused. The finish is beat. The wood is actually in fine condition, just that the finish is wrecked.
Last is this short and stocky little Heywood Wakefield nightstand. Check out that nasty cigarette burn. So, there's one more reason not smoke... cigarettes ruin vintage modern furniture!
Thanks for looking. I'll post the after photos once we get all the pieces back from the refinisher.